cats with wings
Reading the image of a city with Kevin A. Lynch (part 1 of 4)
The new and the old. Is one better than the other or is it best for them to coexist?
Nothing is experienced by itself, but always in relation to its surrounding

Kevin Lynch
I started reading The Image of the City as I flew from Honolulu to Osaka at the formal beginning of my independent research project on psychogeography and environmental psychology.
proof
I'm a very slow reader of prose because I like to let the words sink in and I think about how to interpret them in different ways and apply the words to other thoughts and projects that I'm currently working on.
Over the 9-hour plane ride I was able to get through the first 11 pages or so and it was really insightful. It gave me a whole page full of ideas for how to implement some of the spatial machine learning stuff that I've been thinking about.
Not one American city, larger than a village, is of consistently fine quality.

Kevin Lynch
This is something that I've noticed too. The qualities of a city differ greatly from area to area, even building to building. Anything larger than a small neighborhood area is seldom controllable. Property developers generally want to build with the cheapest cost possible and it costs (time or money) to create a variety of building designs with one consistent theme. University campuses sometimes don't even do this well.
Of course, the idea of the village is a very interesting one to me. I think architects and city planners can come together and design purposeful "villages" which experiment with variations on what would have been just one building. Villages should be identifiable and distinct from each other.
In Japan, the adaddress system provides a good way to divide space into villages using the designated machi (町) and oaza (大字).
A good, readable environment can provide emotional security. An unreadable environment creates emotional confusion. Legibility of the environment is different to each person depending on how many times they have seen the features which are in the environment.
My Questions:
how do we measure the legibility of an environment in either a locally objective or universally objective way?
One of the ideas that I've had before is to harness OpenStreetMap data and use it to discover the psychological affects of the spatial distance of specific objects within an environment. But as I was reading this book I realized one of my premises was wrong. People don't experience environments in a universal way. The phenomena that I wanted to measure is a two-way process between the observer and his environment. It would be difficult to only use OpenStreetMap data because the human aspect can only be inferred instead of directly measured.
My conclusion after reading 11 pages of this book is that I need to have users rate areas in terms of extremes between dichotomies. It's not enough to capture the spatial data but I also need to know how people interpret the place.
cold 5 4 3 2 1 0 1 2 3 4 5 hot

dangerous 5 4 3 2 1 0 1 2 3 4 5 safe

slow-paced 5 4 3 2 1 0 1 2 3 4 5 fast-paced

quiet 5 4 3 2 1 0 1 2 3 4 5 loud

etc
To measure legibility of the environment I can include the variable of how many days the people stayed in the environment and see if the length of stay changes the overall distribution of the results (or even compare to people who have lived multiple years in the area).
The default will be a fully anonymous option to view and submit this data. I'm also thinking about creating a sign-up where users will create a psychological (Big 5) and demographic profile and we can observe how groups of people differ in experiencing environments.
how do we increase emotional satisfaction through constructed and legible environments?
One idea is to allow for a form of public construction: spaces where the environment is legally alterable by participants and visitors to that environment. People create connections to the environment by modifying the environment (not limited to personalizing).
Another idea is to increase research in this area. We need more people thinking about this (not just psychologists but all people). We also need more open data about environments.
Application
After reading Lynch's book on the plane I really wanted to test out some of the ideas. I realized that a better way to read the book would be to read it while walking through the city—so that's what I did today. I walked about 12 hours from Tsurugaoka to Kuchinawazaka. The first time I went to Osaka, last year, I went to dotonbori and namba. Today was quite a bit different.
I think the newer generation of people is less used to surprising discoveries. They usually don't go to a place by accident because they don't get lost (we have GPS). They have no reason to leave their usual route or to go to any place without finding it first on Google Maps. That is why I think the psychogeographic ideas of dérive and détournement are going to be critical to my research.
Before I went to Japan the only research that I did was to see how far away the place I would be staying in was from the airport. I arrived late at night but when I woke up the next morning to explore, I left promptly without looking at a map. I didn't set out with any goal in mind other than to explore and read. I used my eyes to observe the streets and when I came to an intersection I would look at all three options and decide which looked the most interesting to walk down.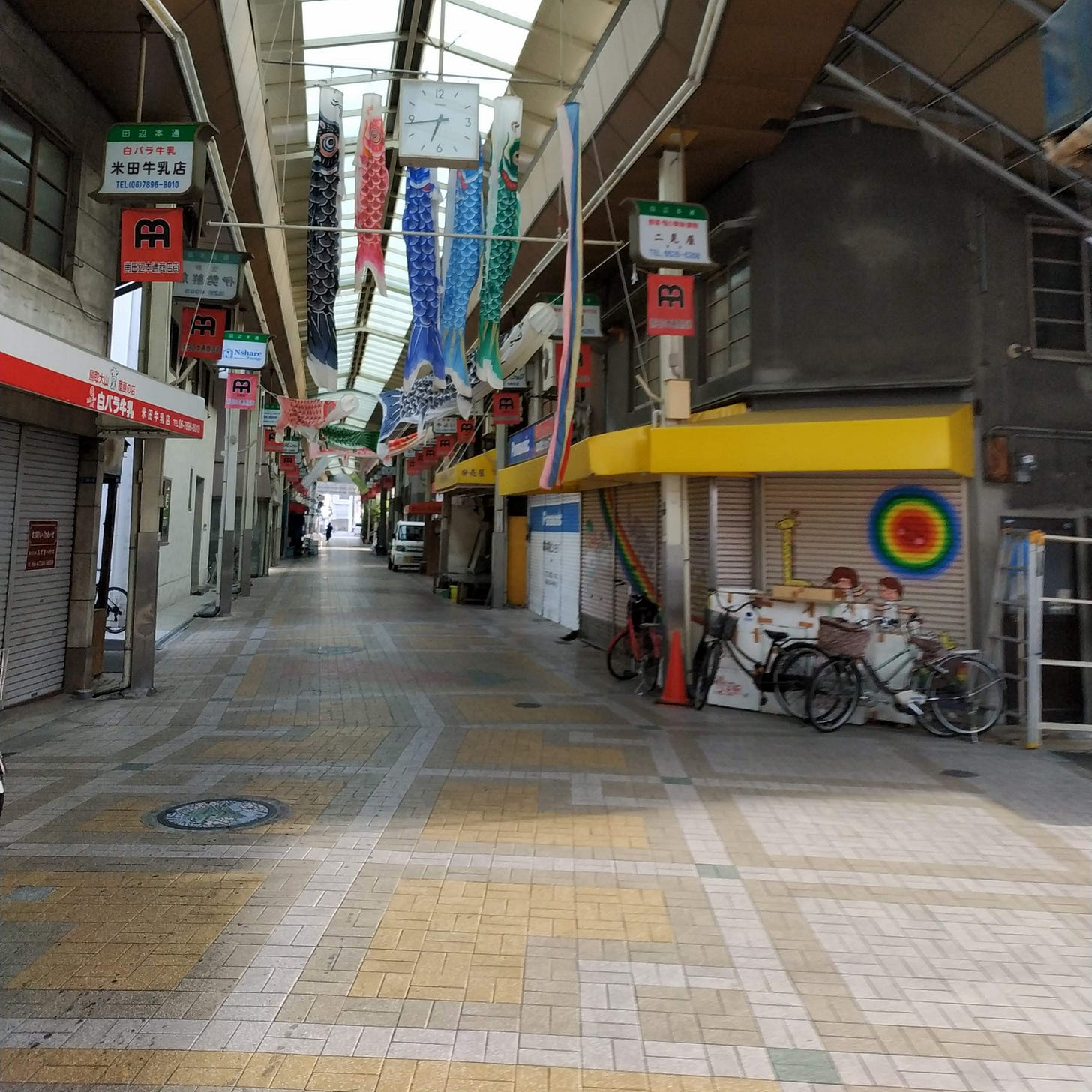 Outside of the touristy areas, the city of Osaka is way different and in many ways much more interesting. Osaka is very diverse and each area has distinct but subtle characteristics.
Many blocks (丁目) in Japan look like this. Buildings have a variety of styles and themes. There might be some dissonance but the contrast also enhances features which we might not see otherwise. Urban design is a balancing act between many axioms. We want control but we also don't like it. We want dreams but we also prefer reality.
The obstruction on the road helps keep pedestrians safe because cars slow down to maneuver around it.
Osaka has many lovely water features
As I was looking out at the water an old woman walked by while feeding pigeons.
Animals are also very much part of our environment and they shape our behavior just as much as we shape their behavior. The soft coos of the pigeons probably give the old woman all the more reason to go for a walk at 7am. By feeding the pigeons initially, she (or the person before her) broke down the boundary between the humans and the pigeons within that specific human-shaped environment. The pigeons became a more distinct feature of that space because they formed (or were formed) into a relationship with the environment. We have turned birds into cats with wings.
This place reminds me of Salvador Dalí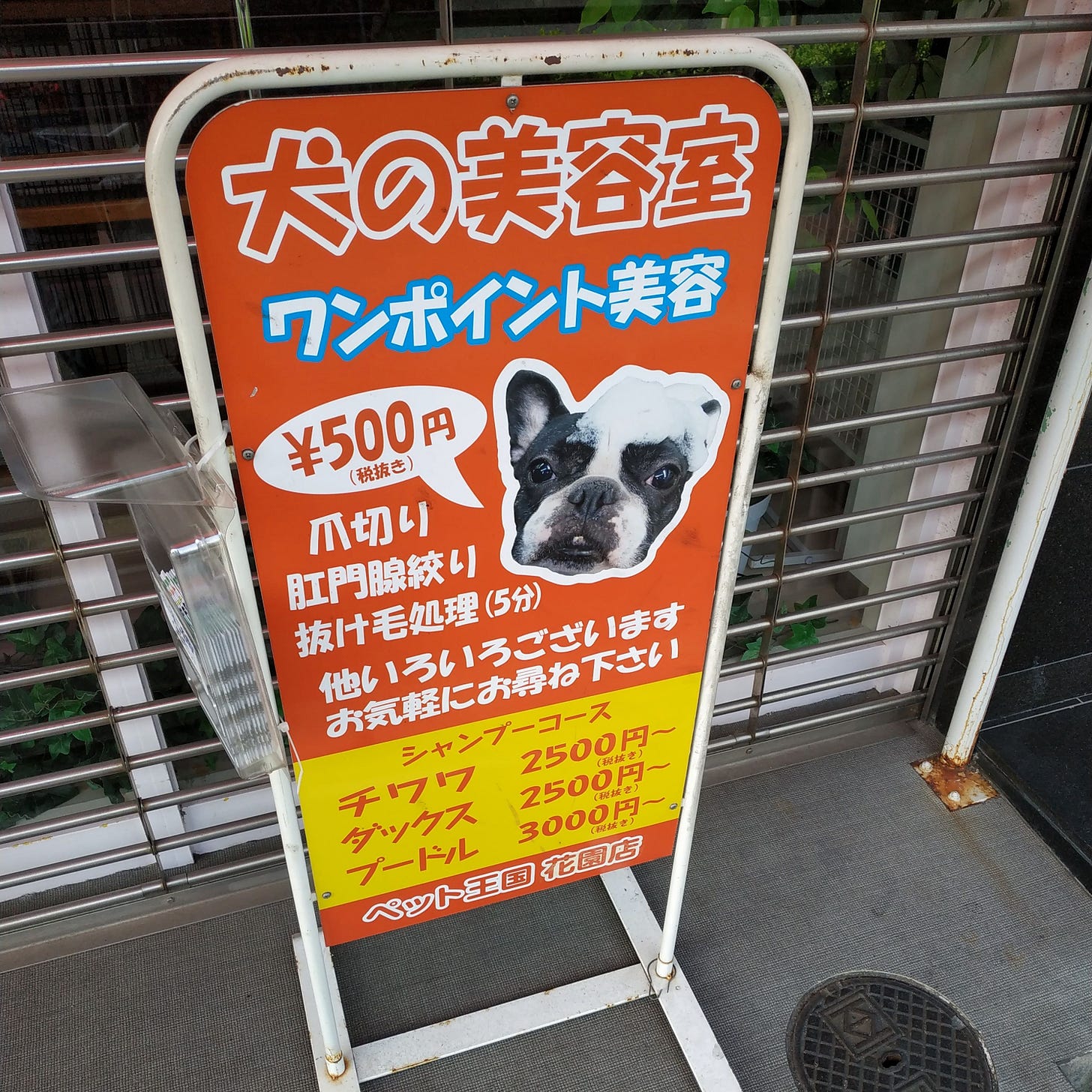 Nagai area has many dog themes. Many people were out walking their dogs in the morning and there were a few pet stores. I saw this near Nagai but not in other areas.
This area reminds me of Chuo-Ohashi in Tokyo but I'm still not sure why. It's not completely similar because there is also cool-looking older buildings.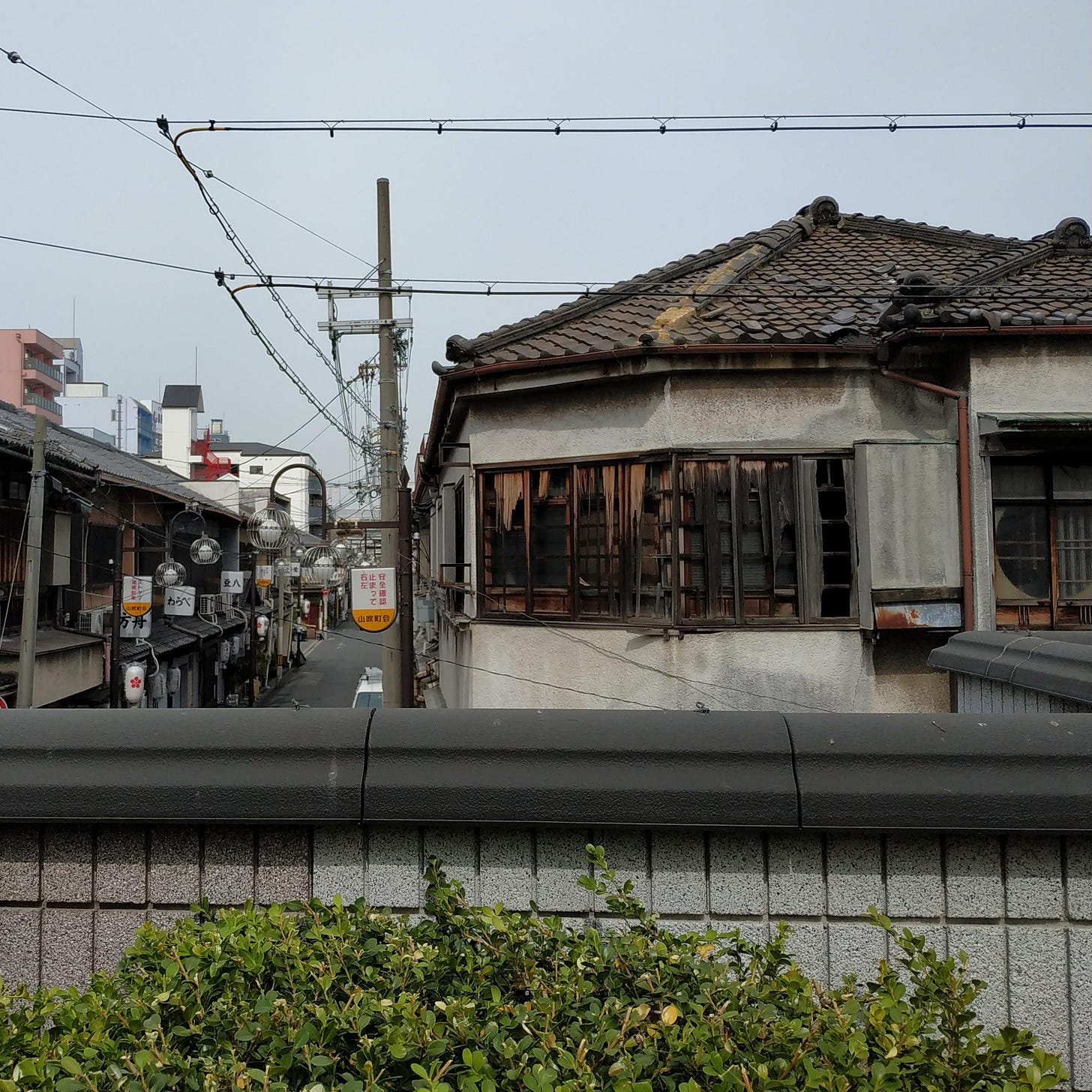 This building near Tsutenkaku is interesting because they create a representation of older buildings that exist just a street away. I'm not sure why they do this—but in a strange way it looks Tsutenkaku tower itself: pretending to be old. So this is the pretending-to-be-old village.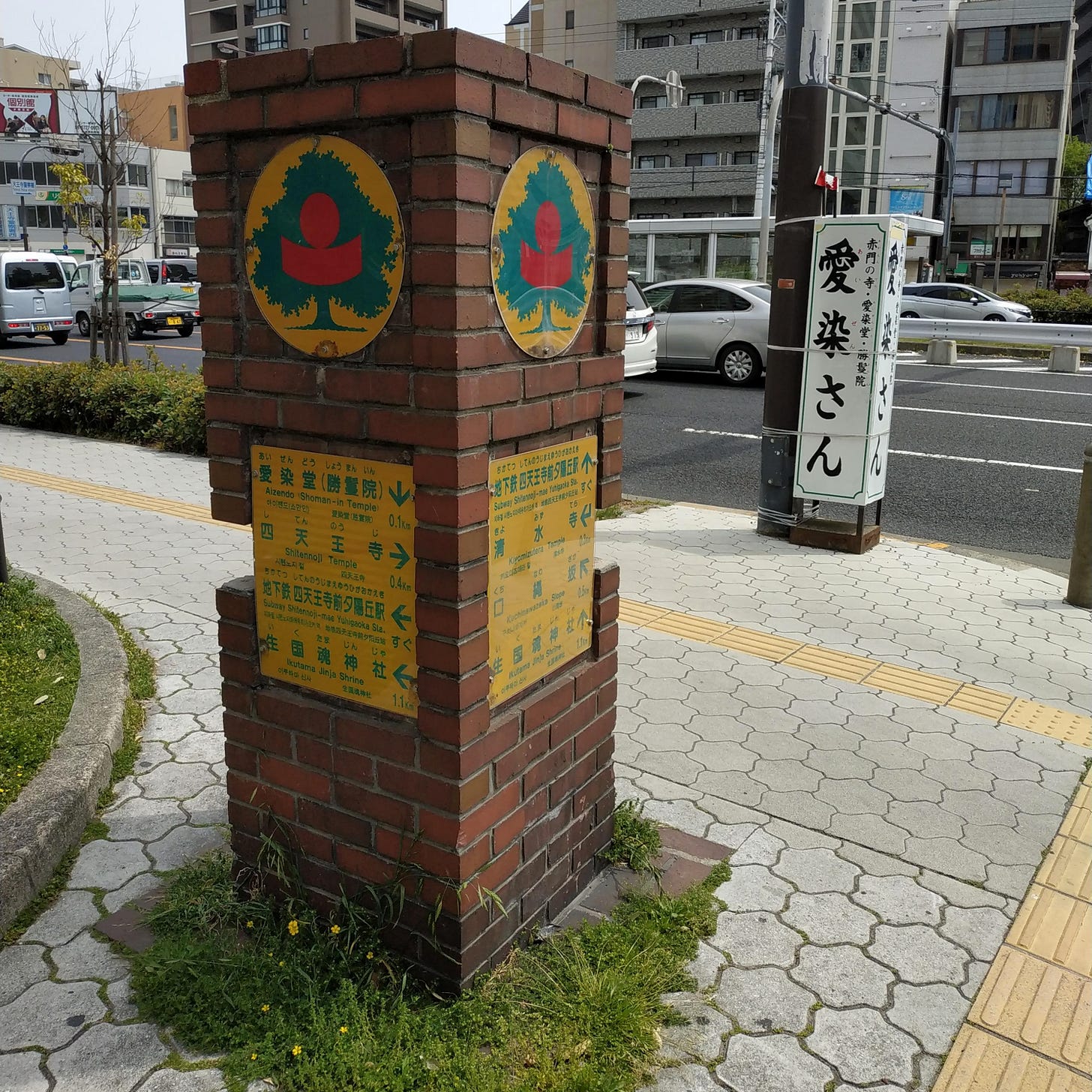 That's all I have for now. I will continue the search for how to get lost